Creative Clearwater
Artists and Entrepreneurs settle in Clearwater because of their Church
On Drew Street in Clearwater, just a little off downtown, there's a large, white, nondescript building huddled next to a smaller brick structure. The two adjacent buildings—in bygone days a fire station and an ice house—aren't eye-catching.
That is, until you enter.
Then, the portal reveals a vista that's a little like stepping into the Land of Oz. Behold, here is the redoubt of one of Clearwater's most prolific and acclaimed artists, Robert Schoeller. The huge interior spaces are aswirl with colors and easels, massive canvases with fantastical images, others with heartbreakingly beautiful portraits, jumbled against walls or braced for painting, all interspersed with family living spaces in the middle of an enchanting chaos.
Artists like Schoeller aren't easily reduced to demographic statistics. But a July 2014 study by the Florida State University Center for Economic Forecasting and Analysis takes a double-barreled approach to understanding the Church of Scientology's role in Clearwater. Part of the study precisely weighs the Church's economic impact on Clearwater—about $917 million in 2013.
Another part of the report isn't reducible to an easy bottom line—the FSU economists researched dozens of indicators on Scientologists who live in and visit Clearwater. Income, educational levels, spending habits, charitable contributions, and even beach trips—it provides the granular information that, combined, cause economic impact.
One of the significant benefits the Church has brought to the Tampa Bay area is its parishioners. The average Scientologist is successful in life. This provides a disposable income which helps the overall economy of the area.
Tom Cummins, businessman
The picture that's drawn is of a community that is, in most ways, incredibly typical. Above average income, true, but not dissimilar to any group in a middle- to upper-middle-class neighborhood.
Even those finely sliced-and-diced numbers, however, can't visualize people. You'll meet some of the Scientologists in this issue of Freedom (see Citizens, Neighbors, Friends). For a start, you can see Scientology through the lives of Schoeller and a few of his religious compatriots.
Schoeller, wiry and frenetic, doesn't just move about his domain, he seems to materialize at one point, and poof he's somewhere else, rummaging through his work, throwing his hands up, talking about cowboy boots (he likes them). All of his work flows from his intensity of thought, he says. He tries an idea, discards it, tries again. For example, one wall-sized landscape of an ancient European town has an almost staggering visual impact, and many critics would cluck effusively that it was a masterpiece. Schoeller merely sighs, "I wasn't satisfied."
Schoeller is a genius. He has his incandescent talent, and more than 40 years of work, from wunderkind to master, to prove it.
What makes Schoeller's genius work is his ability to translate. He's famous for portraits—and clients sit on a long waiting list for months and years to be immortalized by the artist. But he doesn't just render faces like a photograph. "It's the emotions, the thoughts and moods, that's what I paint," he says. Looking at his portraits is like engaging in a conversation with the subject—you have been told something, and you want to respond.
In 1986, Schoeller was commissioned by the White House to paint George Washington for the bicentennial of the U.S. Constitution. The portrait depicts Washington, with a quizzical half-smile, handing a quill to the viewer, with the clear intent of that person adding his contribution to the Constitution. Washington seems to be telling generations of Americans, "We all have a hand in this." "My God!" erupts Schoeller, "what other message could there have been."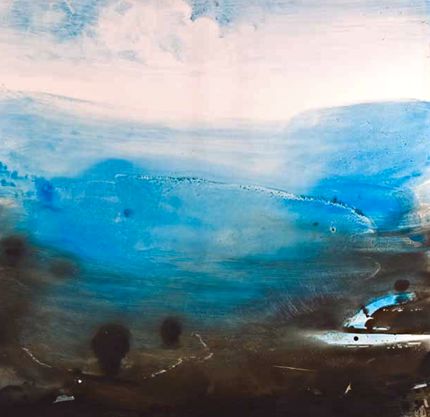 When growing up in Austria, Schoeller, never bashful, realized, "I had the talent of a god." But something very important was missing. He found that key ingredient in 1976 in a Scientology communications course in Munich, Germany. "That's what changed my life, my art," he says.
His art is a gift to the community, Schoeller says, and he plans to renovate his Drew Street buildings as a public gallery.
Schoeller is one of more than 13,000 Scientologists who live in the Clearwater area. More than 9,000 Scientologists visit Clearwater each year—from scores of countries. More than a few are artists—performers, painters and sculptors, musicians, and authors—callings that strongly resonate with the religion. After all, Scientology's Founder, L. Ron Hubbard, had an entire career as a renowned fiction writer before he turned to exploring Mankind's mind and spirit.
But the Scientology community also includes technology tycoons, educators, energy entrepreneurs, physicians and dentists, educators, consultants, brokers, students, lawyers, lawn care company owners, plus more than 2,300 fulltime staff members at the religion's spiritual headquarters, Flag, in Clearwater.
Despite enormous differences in backgrounds, occupations, lifestyles and more, like Schoeller they have one thing in common: Scientology changed their lives.
In short, other than a large percentage of high performers, Clearwater Scientologists are indistinguishable from most residents of the town. But drilling down in that observation, you find more.
Take Shannon Seymour. If you live in Clearwater, you already know a little bit about her. She owns the building that houses Starbucks, the high-traffic downtown must-drop-in-often spot for coffee, socializing, deal-making and people-watching. "I have done well," she says. Her main business is Hawaiian Moon Inc., which makes and markets aloe vera cream, has grown from three people to 90 since 2006, and will have sales this year topping $8 million. The company was just named to the "Inc. 5000" list of America's fastest-growing companies.
"The reason for my success?" Seymour shrugs. "Simple. L. Ron Hubbard and Scientology." She was making $18,000 a year as a waitress in Portland, Oregon, when she decided a change was necessary. "My daughter's school cost $40,000 a year. The numbers didn't add up." So, with little more than an idea and administrative and business "tech" devised by Mr. Hubbard, Seymour launched Hawaiian Moon. She moved to Clearwater in 2009, has acquired several strategic land parcels in the downtown area—and she has announced plans to join the Sea Org, the religious order and fulltime staff of the Church.
"What should Clearwater be?" she muses. "I really like Hillsboro, Oregon, the home of Intel. Intel supports the community, and the community supports Intel. The town is full of health food stores, good restaurants. People want to set up stores there because there's a solid community of talented, sophisticated people."
"Clearwater should be booming like that," Seymour adds. "Scientologists are the necessary ingredient that the city already has. We tend to love life, love culture, love doing things. What we really need to move things along will be more residential development in downtown, and that's already coming."
Also from the business community, Tom Cummins owns Consumer Sales Solutions, a reseller of energy. "One of the significant benefits the Church has brought to the Tampa Bay area is its parishioners," he observes. "The average Scientologist is successful in life. This provides a disposable income which helps the overall economy of the area."
"In addition to the positive benefit of dollars and cents to the community," Cummins says, "it is bolstered by the ethical and moral standards we Scientologists adhere to. We do not abuse alcohol and we never use illegal drugs. We follow the laws of the land, trying to create a safe environment in which to live. We support a strong family bond, we discourage sexual promiscuity and encourage a strong, honest and open relationship between partners. We do our best to send our children to the finest schools and, as parents, we are actively involved to ensure our children do in fact get a great education, helping build sane, productive leaders for our future."
That's a great picture. Earlier in this publication, you see graphs that illustrate the numbers about Scientologists. They're fascinating. But the people behind them are much more interesting than numbers.