At the Right Time…
Volunteer Ministers were on the scene after a deadly series of gas explosions in Kaohsiung, Taiwan, to lend a helping hand.
It was 8:46 p.m. on the night of July 31 when residents of Kaohsiung reported a strong smell of gas and the sight of white smoke pouring out of manholes in the heart of the city.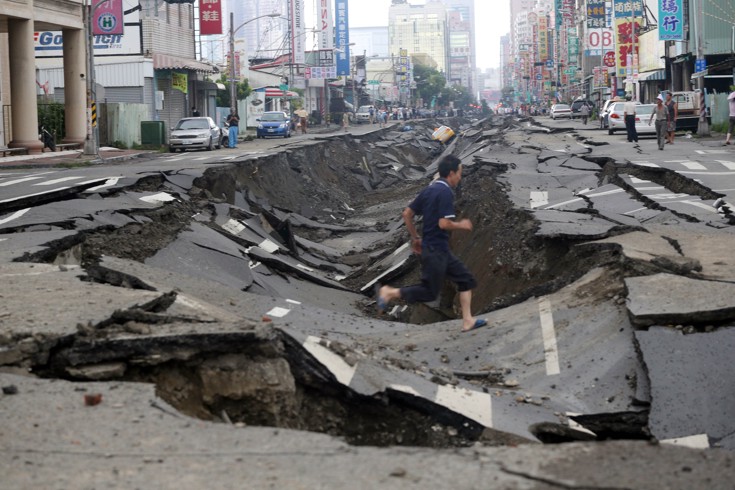 The first explosion came a little more than three hours later, at 11:57 p.m. A series of five petrochemical pipeline blasts ripped through an area of some three square kilometers. Witnesses reported seeing fireballs leaping into the sky, splitting streets in half and blowing cars and motorcycles into the air. Victims and vehicles were found atop buildings as high as four stories.
Cha-Cha Chen, a staff member at the Kaohsiung Church of Scientology that had been dedicated just eight months before and sat mere blocks from Ground Zero, rushed over to witness a deadly and devastating scene in those early morning hours of August 1.
"The gas smell still permeated everything," Chen recalled through an interpreter in an interview with Freedom. "Everything was in chaos. The Taiwanese government had taken control, but it was all very much in disarray. We all felt there was a very big risk of more explosions, but our concern was for the people and for our city."
The explosions and subsequent series of fires ultimately would claim 28 lives, injure 286, and displace some 12,000 residents. Four firefighters were among the dead. Within two hours of the first blasts, the Taiwanese Army was dispatched to the site to bring order. They helped to shuttle the sick and injured to hospital emergency rooms around Kaohsiung and the displaced to hotels and shelters.
And as the crisis unfolded, Scientology Volunteer Ministers mobilized hundreds of trained relief workers to lend a helping hand and restore calm amid the disaster's bedlam. Because that's what Volunteer Ministers do—just as they had 15 years earlier while aiding in the rescue of thousands of victims of a devastating earthquake in Nan Tao, Taiwan, in September 1999, and at other disaster sites around the world.
With a mandate to alleviate both physical and spiritual trauma, Volunteer Ministers are organized in Disaster Response Teams. Wearing their signature yellow shirts, those teams arrive shortly after the first responders and meet with local emergency managers, law enforcement officials and military and government personnel to coordinate their actions and provide any immediate assistance needed. That includes organization, food and water supply, or manning points of distribution.
The Volunteer Ministers join forces with military personnel, government relief agencies and other civic and religious organizations who volunteer their help.
But key to Volunteer Ministers' activities are "assists," actions taken to help a person confront physical and spiritual difficulties and to alleviate a present-time discomfort, pain or trauma. They administer the assists to survivors, first responders and caregivers as needed to help them come to terms with stress, loss, grief, pain and/or shock.
In the week following the gas explosion, staff from the Kaohsiung Church of Scientology mobilized Scientologists throughout the city using a smartphone app that afforded them quick and interference-free communication. In the first 24 hours, more than 100 Volunteer Ministers signed on to distribute supplies, provide assists, and help in any way needed.
Created nearly 40 years ago by L. Ron Hubbard, some 200,000 people worldwide have been trained in Volunteer Minister technology. Many have served at worst-case disaster sites, including Ground Zero following 9/11, the Southeast Asian tsunami, Hurricanes Katrina and Rita, the Haitian earthquake, and the 2011 Japanese earthquakes and tsunami and their subsequent nuclear threat.
The Volunteer Ministers are now one of the world's largest and most visible independent relief forces.
Explained veteran American first responder Ayal Lindeman in an interview with Freedom: "We bring help. We provide assistance to bring order from confusion. We find out what is needed and, within the command structure that exists, we do exactly that… We know that our motto as Volunteer Ministers is true: 'Something can be done about it.' And we take actions to do something about it in every situation."
The Volunteer Ministers delivered hundreds of assists to relieve the emotional and spiritual trauma suffered by survivors of the disaster, as reflected in these accounts.
"When I started to deliver an assist to a firefighter, his injured hand was shaking," said one Volunteer Minister, Su-Juan Yang. "One of his nails was gone and he was in great pain. He also described how he saw fire on the road, witnessed his colleagues disappearing, and told of how he nearly died himself. As I gave him an assist, he gradually relaxed and at one point he smiled and said he felt much better and thanked me."
Chi-Hsieh Lee told Freedom: "I was called to Chang-Ken Hospital to deliver assists to explosion victims awaiting medical care. I entered the room and the injured person began to tell me the story of how he was out driving at night and passed by the explosion area. Then his car suddenly veered out of control and he struck the remains of a police station. He fractured some bones in the accident, leaving him in excruciating pain. When I started to give him the assist, he was cringing and holding his belly in agony. As I continued, the tension in his body eased more and more and after awhile he said the pain was lessening. After another assist, the color returned to his face, he was smiling and experienced great relief."
Said Lucy Chen: "I met a woman in a shelter whose car had been destroyed in the explosions. She was in shock from what she had witnessed for three straight days. I gave her an assist and by the end, she said she was able to focus, that things had become clearer and less confusing. She was grateful for the assist and said she realized how fortunate she was to have survived the blast."
In the week following the disaster, Volunteer Ministers gave hundreds of assists, bringing relief to those in physical and emotional need—from victims to caregivers to police to firefighters.
"We as Volunteer Ministers do everything within our power and then some to rectify a situation," says Lindeman, summing up the purpose that drives such efforts, not only in Taiwan, but around the world. "We're there to help, period. And we have the tools to provide that help. We use those tools and we teach others to use them as well."
And in Kaohsiung, as so many times before, they answered the call.